Coffee has a unique ability to transform our mornings, offering a comforting ritual that kickstarts our day.
While many of us cherish the caffeine kick, there's a sizable community of coffee enthusiasts who opt for a gentler approach to their daily cup.
Decaffeinated coffee, often lovingly referred to as "decaf," provides that familiar warmth and aroma without the caffeine buzz.
If you're among those who appreciate the mellowness of decaf, you'll be delighted to know that the world of K-Cups has embraced this preference wholeheartedly.
These single-serve pods are not only convenient but also offer an array of decaffeinated options to suit your palate.
In this guide, we'll take you on a flavorful journey through the 15 best decaf K-Cups available on the market today.
So, without further ado, let's take a quick look at the best choices.
15 Best Decaf K Cups: At A Glance
1. Maud's Dark Roast Decaf Coffee Tall and Handsome K Cups: Best Overall
At the top of our list for the best Decaf K-Cups, we have Maud's Dark Roast Decaf Coffee.
This coffee is all about bold flavor without the caffeine kick.
Imagine a full-bodied coffee with a silky feel and a sweet aroma that hints at toasted nuts.
It's a heavy-hitter in the flavor department, perfect for those who crave a strong coffee taste.
Maud's Dark Roast, aptly named "Tall, Dark, And Handsome," leaves a lasting impression with its robust aftertaste.
If you've been longing for that classic coffee flavor even after making the switch to decaf, Maud's Dark Roast has got you covered.
It's a dark roast with an intensity level of 8, made from 100% Arabica beans roasted with care in sunny California by Maud's 5th Generation Roastmaster.
But it's not just about the taste; Maud's is committed to sustainability.
Their pods are 100% recyclable and free from BPA.
Plus, when it comes to decaffeination, they opt for the Swiss Water Process, ensuring a caffeine-free cup that's pure and free from any lingering chemicals.
So, if you're looking for a decaf K-Cup that doesn't compromise on flavor or quality, Maud's Dark Roast Decaf Coffee is a top choice.
Pros
Rich, full-bodied flavor
Silky texture with sweet aroma
Made from 100% Arabica beans
Environmentally friendly, recyclable pods
Decaffeinated using the Swiss Water Process
Cons
Keurig machines may struggle with piercing the foil, causing coffee pod issues.
2. Illy Classico Decaffeinated Coffee K-Cups: Runner-Up
Our runner-up in the decaf K-Cups category is Illy's Classico Decaffeinated K-Cups.
These pods are crafted from 100% Arabica coffee beans, and they don't contain any preservatives.
When you take a sip, you'll experience a rich, well-balanced coffee with delightful caramel notes.
The caffeine content is impressively low, clocking in at no more than 0.1%.
Illy employs the Swiss Water Process for decaffeination, preserving the signature taste of their coffee.
This means you can enjoy this exceptional cup of coffee at any hour without worrying about staying awake all night.
One aspect we particularly appreciate is the value these K-Cups offer.
While they may seem a bit pricier upfront, their bulk packages will keep you caffeinated for quite some time.
Plus, when you break it down per cup, the price becomes quite affordable, especially if you opt for the 60-pod bulk package, which comes to about $1 per pod.
It's worth noting that Illy's decaf K-Cups might not be the absolute cheapest option available, but they certainly provide good value for their quality.
If you're mindful of your budget, you might want to consider them, especially if you take advantage of their recurring purchase plans.
However, if you prefer a milder coffee taste, these K-Cups may not be your best choice.
They cater more to those who savor a bold and robust coffee flavor.
So, if that's your preference, Illy's Classico Decaffeinated K-Cups might just be your perfect pick.
Pros
100% Arabica coffee beans
Rich and balanced flavor with caramel notes
Low caffeine content (0.1%)
Swiss Water Process preserves coffee taste
Affordable per-cup cost in bulk
Recurring purchase plans available
Cons
Not the cheapest decaf option
Not ideal for those who prefer milder coffee
3. Green Mountain Coffee Breakfast Blend Decaf K Cups: Best Light Roast
When it comes to fantastic K-Cup coffee, Green Mountain is a brand you can trust.
They've consistently delivered high-quality K-Cups, giving giants like Starbucks Decaf K-Cups a run for their money.
Their Breakfast Blend Decaf is no exception, setting a high standard for other decaf K-Cups to follow.
These K-Cups are crafted from 100% Arabica coffee beans and are decaffeinated.
It's a light roast coffee that combines the crispness of Central American beans with the depth of Indonesian beans, resulting in a bright and engaging blend.
Like most breakfast blends, it's not overly intense in flavor, making it ideal for that first cup of morning coffee.
What makes it stand out is its great flavor, absence of any acidic or bitter aftertaste, and offers great affordability.
However, it's worth noting that this coffee can lead to quicker clogs in your coffee maker than you'd prefer.
So, be vigilant and ensure you keep your coffee maker clean.
With proper maintenance, clogs shouldn't pose a significant problem.
Pros
Reliable brand with a strong K-Cup reputation
High-quality decaf option
100% Arabica coffee beans
Bright and engaging flavor blend
Affordable pricing
No bitter or acidic aftertaste
Cons
May lead to quicker clogs in coffee makers
Not the most flavorful option for those seeking bold tastes
4. San Francisco Bay Decaf French Roast K Cups: Best French Roast
If you're a fan of exceptionally dark coffee, even darker than your typical dark roast, then French roast coffee is probably right up your alley.
These beans are roasted for quite a while, which eliminates acidity but also results in an incredibly bold flavor.
If that boldness appeals to you, then you're in for a treat with San Francisco Bay Decaf pods.
What sets San Francisco Bay apart goes beyond the taste.
They've got a unique, eco-friendly pod design that stands out, and they're committed to delivering only freshly roasted coffee.
Each morning, reaching for these K-Cups will become a delightful ritual.
These pods are filled with dark-roasted Arabica beans from Central and South America, giving you a bold and full-bodied flavor.
What's more, the decaffeination process they use is the Swiss Water Process, which is free of chemicals and ensures the flavor of the beans remains intact.
But it doesn't stop there; these pods are commercially compostable, making them a planet-friendly choice.
Plus, customers who've given them a try have sung their praises, highlighting the delightful taste and aroma.
Pros
Exceptionally bold flavor
Unique and eco-friendly pod design
Freshly roasted coffee
Made from Central and South American Arabica beans
Decaffeinated using the chemical-free Swiss Water Process
Pods are commercially compostable
Cons
May be too strong for those who prefer milder coffee
Because they aren't sealed, freshness may diminish if not stored in an airtight bag
Some Keurig machines may struggle to puncture the K-Cups due to the materials
5. Green Mountain Coffee Dark Magic Decaf K Cups: Best Dark Roast
If you're a fan of strong coffee, you're in for a treat with Green Mountain Coffee Roasters' Dark Magic Decaf Pods.
This coffee boasts a rich and robust flavor profile thanks to its dark roast, with deep smoky notes and subtle hints of dried fruit.
What sets it apart is its pleasantly sweet finish, which bucks the trend of the usual bitter aftertaste often associated with coffee.
If you enjoy your coffee black and strong, this one's right up your alley.
Plus, it's not going to break the bank – it's one of the more budget-friendly options on our list.
And to top it off, it's produced using sustainable farming practices, making it a responsible choice for your caffeine-free coffee fix.
Pros
Rich and robust flavor
Deep smoky notes with hints of dried fruit
Subtly sweet finish, no bitter aftertaste
Affordable option
Produced using sustainable farming practices
Cons
Occasional reports of K-Cups exploding in Keurig machines and causing clogs
Some customers have received stale K-Cups upon delivery
6. Lifeboost Medium Roast Decaf Coffee Pods: Best Organic Option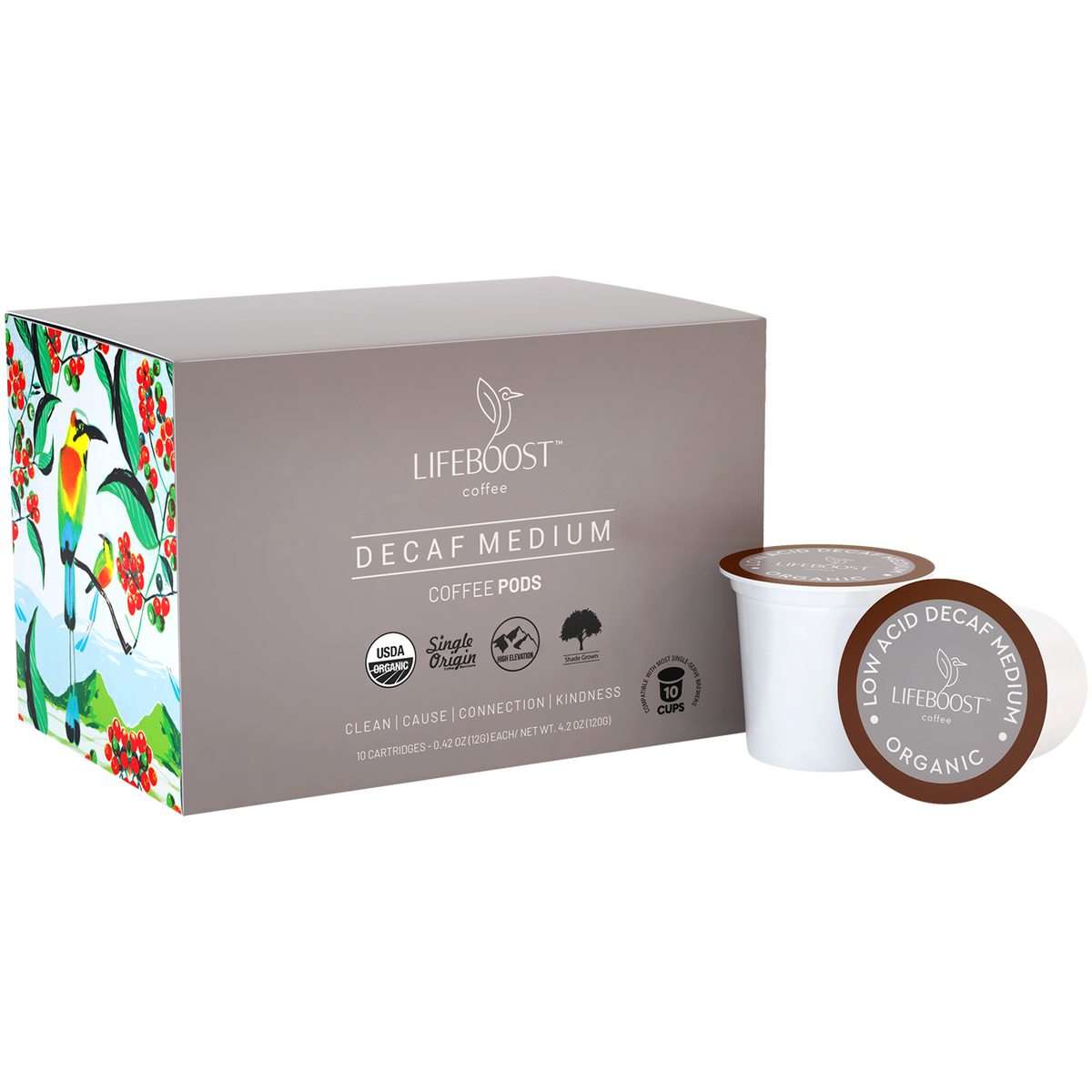 Lifeboost is a brand we wholeheartedly endorse for one simple reason – their coffee is fantastic!
It might not be as widely recognized as some others, but when it comes to decaf K-Cup coffee, Lifeboost stands out.
This small business is all about quality, and it shows in their coffee.
Take, for instance, their Medium Roast Decaf Coffee Pods.
These gems are non-GMO, single-origin, specialty coffee that's been pH tested to be up to 27.7% less acidic than your typical store-bought brew.
What does that mean for you? No more dealing with bloating or acidity after your morning cup.
Lifeboost is committed to all things organic, with USDA-certified products and a lineup of conscious practices.
Their coffee is shade-grown, sun-dried in the lofty mountains of Central America, fairly traded, pesticide-free, and completely devoid of chemicals.
It's pure, antioxidant-rich goodness in a cup.
When it comes to decaffeination, they opt for the Swiss Water method, ensuring no additional chemicals are used.
With regards to flavor, You'll savor delightful undertones of chocolate and caramel, complemented by a subtle fruitiness.
The only real drawback with Lifeboost pods is the price tag, but if you're looking for the crème de la crème of caffeine-free pods, it's worth the investment.
So, if you appreciate top-notch coffee and are willing to pay a bit more for quality, Lifeboost is your go-to brand.
Pros
Exceptional coffee quality
Low acidity, gentle on the stomach
USDA-certified organic and conscious practices
Shade-grown, sun-dried in Central America
Fairly traded, pesticide-free, and chemical-free
Swiss Water Decaf process, no extra chemicals
Rich flavor with chocolate, caramel, and mild fruitiness
Cons
Higher cost compared to some other options
Availability may vary depending on location
7. Caribou Coffee Decaf Caribou Blend K Cups: Most Flavorful
Caribou Coffee's Caribou Blend Decaf offers a full-bodied flavor with just the right amount of punch.
This blend combines the richness of Indonesian beans with the perfect balance of Central American and South American varieties, creating a coffee that's both relaxed and lively, with delightful fruit notes.
You'll discover woodsy and spicy undertones that beautifully complement the bright acidity and lively fruit tones.
This medium roast coffee is a chemical-free brew, and it boasts certifications from the Orthodox Union Kosher and Rainforest Alliance.
Whether you need a pack of 24, 96, or 168 pods, you'll find them available through various retailers like Caribou Coffee, Amazon, Walmart, Staples, and Webstaurantstore.
This blend is a go-to for those who appreciate a bold yet smooth flavor without the bitterness.
The syrupy taste makes it a great choice for those who prefer less sugar and opt for coffee creamer to sweeten their brew.
If that sounds like you, Caribou Coffee's Caribou Blend Decaf might just become your new favorite.
Pros
Full-bodied flavor with a hint of bite
A blend of Indonesian, Central American, and South American beans
Woodsy, spicy notes with balanced acidity
Chemical-free, Orthodox Union Kosher, and Rainforest Alliance Certified
Available in multiple pack sizes from various retailers
Ideal for those who enjoy bold yet smooth coffee
The syrupy taste allows for sweetening with creamer
Cons
Inconsistent flavor reported by some customers
Some batches were found to be too bland or bitter
8. Starbucks Decaf House Blend Medium Roast K Cups: Best Starbucks K Cups
When it comes to coffee, even the decaf variety, Starbucks is a name that needs no introduction.
It's one of the most recognized coffee brands globally, and for a good reason – they know how to brew a fantastic cup.
The same holds true for their decaf K-Cups, which make enjoying Starbucks coffee in your Keurig a breeze.
Starbucks Decaf House Blend Medium Roast K-Cups feature Latin American beans roasted to a dark chestnut color, with delightful notes of toffee and cocoa.
This coffee is packed with flavor and offers a well-balanced taste.
Whether you prefer your coffee black or with added milk, syrup, or cream, these Starbucks decaf K-Cups cater to most coffee lovers.
What sets this blend apart is its bold flavor, but it's smoothed out, avoiding the heavy toasty edges often found in dark roast blends.
You can find these K-Cups in various quantities, such as 22, 60, and 72 pods per box, and they're available from retailers like Amazon, Walmart, Target, and Sam's Club.
Choosing Starbucks means you're opting for an ethical and sustainable coffee provider.
Despite being a massive corporation, they still prioritize ethical growth and responsible trading practices, ensuring your coffee is not only flavorful but also responsibly sourced.
Pros
Rich Latin American beans with toffee and cocoa notes
Flavorful and well-balanced taste
Suitable for black coffee or with added milk, syrup, or cream
Available in various quantities
Ethical and sustainable sourcing practices
Cons
Higher price compared to other options
Reports of receiving expired or near-expiring pods
Has a slightly bitter aftertaste
9. Dunkin' Decaf Medium Roast K Cups: Best Dunkin' K Cups
Why venture out when you can savor the goodness of Dunkin' Donuts coffee from the comfort of your own home?
There are countless reasons why Dunkin' has secured a special place in the hearts of coffee lovers across America, and one of them is undoubtedly their bold and unmistakable flavors.
These decaf K-Cups are brought to you by Dunkin', the coffee maestro that opened its first shop back in 1950.
Beyond K-Cups, they offer a variety of brewing options, from classic flavors to whole beans and ground coffee.
Dunkin' Decaf Medium Roast K-Cups are your convenient coffee companions, containing decaffeinated coffee crafted from 100% premium Arabica beans.
They've mastered the art of blending to capture the same rich, smooth taste that Dunkin' is known for with its Original Blend.
This coffee boasts a creamy, nutty, medium roast flavor that's both smooth and slightly bold, making it the ideal choice for your afternoon coffee break.
Whether you enjoy it black or with a touch of sweetness from sugar or syrup, these medium decaf K-Cups are the epitome of simplicity.
For those who savor the taste of Dunkin' coffee but prefer less caffeine, these K-Cups fit the bill perfectly.
Plus, they're gentle on your stomach and your wallet, making them an excellent choice for those with a sensitive stomach.
Pros
Bold and distinct flavors
Made from 100% premium Arabica beans
Captures Dunkin's rich and smooth taste
Creamy, nutty medium roast flavor
Versatile for black coffee or with additives
Low-acid decaf, gentle on the stomach
Cons
Might be too flavorful for some people
Potential for coffee grounds in the cup
Few instances of explosions during brewing and clogs in Keurig machines
10. Krispy Kreme Classic Decaf Medium Roast K Cups: Best Krispy Kreme K Cups
When it comes to Krispy Kreme, their donuts are legendary, and their coffee is no exception.
This brand has been perfecting the art of brewing coffee since the 1930s, so they know a thing or two about delivering a bold and satisfying taste.
Their decaf K-Cups are medium-roasted and bursting with that signature Arabica flavor.
You can snag them in packs of 24 or 96 K-Cups.
The coffee is richly roasted, offering a truly gratifying flavor that pairs perfectly with your favorite Krispy Kreme donuts or just about any treat you fancy.
What's even better is that these decaf pods won't break the bank.
They're budget-friendly and pack a punch of bold flavor with a smooth finish that might even make you forget it's decaf!
Pros
Krispy Kreme's legendary coffee flavor
Medium-roasted Arabica flavor
Rich and satisfying taste
Budget-friendly decaf option
Bold flavor with a smooth finish
Cons
Deviates in taste from the standard Krispy Kreme decaf
The coffee quality is not the greatest
K-Cups are not eco-friendly
11. The Original Donut Shop Decaf Medium Roast K Cups: Best Value For Money
Donut Shop coffee holds a special place in the hearts of coffee lovers, and their decaf version lives up to the hype.
It's not just the aroma that's amazing; the taste matches it perfectly.
Bringing the diner-style coffee experience to your home has never been easier with Donut Shop Decaf.
If you've ever associated diner coffee with bitterness and an unpleasant aftertaste, you're in for a pleasant surprise.
Donut Shop Decaf is crafted from 100% Arabica ground coffee, contains no artificial ingredients, and holds the Orthodox Union Kosher certification.
This medium roast decaf coffee is rich in flavor yet easygoing, delivering one of life's simple pleasures – great coffee, without the caffeine.
Whether you prefer to enjoy it with milk, cream, or a drizzle of syrup, it's perfectly suited for customization.
You'll find these K-Cup pods available in various package sizes, including 24, 48, and 72 counts, and they're readily accessible from retailers like Amazon, Target, Walmart, and Staples.
Pros
Aroma and taste that match the hype
Diner-style coffee experience at home
100% Arabica ground coffee, no artificial ingredients
Orthodox Union Kosher certified
Rich medium roast flavor
Suited for customization with milk, cream, or syrup
Cons
Quality control issues were reported, leading to solid coffee grounds in the cup
Few instances of coffee grounds clumping in the pod
12. Green Mountain Coffee Roasters Decaf Hazelnut K Cups: Best Hazelnut Flavor
If you've been following along with our list, you've probably picked up on our love for Green Mountain Coffee Roasters.
And here, we have the final entry from them: the Decaf Hazelnut K-Cups.
This lighter-roasted coffee boasts a delightful, sweet, and buttery hazelnut flavor, with an inviting aroma reminiscent of warm, roasted nuts.
It's also certified Orthodox Union Kosher.
You can get your hands on this delectable brew in various pack sizes, including 12, 24, 72, and 96 counts, and it's readily available from a range of retailers such as Amazon, Walmart, Staples, and CoffeeForLess.
Many reviewers have found that purchasing this coffee blend online from Amazon offers a more budget-friendly option.
For those who opt for decaffeinated coffee during pregnancy or simply prefer a hazelnut-infused decaf brew, these Hazelnut Decaf Coffee K-Cups hit the spot.
They're also a go-to choice for those who appreciate a light roast coffee without any artificial sweeteners.
So, if you're seeking a sweet and nutty decaf delight, Green Mountain's Decaf Hazelnut K-Cups are a fantastic pick.
Pros
Lighter roast with sweet, buttery hazelnut flavor
Aroma of warm, roasted nuts
Certified Orthodox Union Kosher
Conveniently accessible from multiple retailers
Budget-friendly option on Amazon
Suitable for light roast coffee enthusiasts
No artificial sweeteners
Cons
Lack of transparency about decaf methods
Limited availability in local stores
13. Gevalia Signature Blend Decaf Light Roast K Cups: Best With Acidity
While Gevalia may not be a household name, this Swedish company has been mastering the art of coffee since way back in 1853.
With all that experience, it's no surprise that their coffee beans pack a punch when it comes to flavor and aroma.
Gevalia Signature Blend Decaf Light Roast K-Cups are your passport to a world of decaffeinated coffee excellence.
Crafted from 100% Arabica coffee beans sourced from various corners of the globe, these beans undergo a slow-roasting process and a quick cooling snap to preserve every bit of flavor and aroma.
Now, it's worth noting that some users find the resulting high acidity a tad on the bitter side for their taste, however, if you can handle a bit of acidity you will love these coffee beans.
Each box of Decaf Signature Blend K-Cups brings light roast coffee right to your home.
Interestingly, many folks describe it as smooth with a mild flavor profile.
You'll find a total of 84 pods in one pack, ensuring you have plenty to savor.
If you're a fan of Illy Decaf K-Cups but looking for a more budget-friendly option without sacrificing the original flavor, Gevalia's Decaf Light Roast K-Cups are an excellent choice.
Pros
Long-standing coffee expertise since 1853
Made from 100% Arabica coffee beans
Slow-roasted and snap-cooled for flavor preservation
Mild and smooth flavor profile
Generous pack size with 84 pods
Budget-friendly alternative to Illy Decaf K-Cups
Cons
Some users find the high acidity a bit bitter
Occasional issue with coffee grounds in the cup
Reports of receiving bad batches with old or stale coffee or a dark roast taste
14. Folgers 100% Colombian Decaf Medium Roast K Cups: Best Colombian Coffee
Folgers 100% Colombian Decaf Medium Roast K-Cups are a result of meticulous craftsmanship by seasoned Roast Masters.
This medium-roast coffee brings a harmonious blend of rich and lively flavors to every cup, minus the caffeine jolt.
Crafted from 100% pure coffee and roasted in the heart of New Orleans, Louisiana, it's a taste that's both distinctively rich and full-bodied.
These K-Cups come in various quantities, including 12-count, 24-count, and 72-count boxes, and they're compatible with all Keurig coffee makers.
Plus, in select communities, they can be recycled, making your brewing process quick and eco-friendly.
As a medium roast blend bursting with flavor, it caters to a wide range of coffee enthusiasts who appreciate the convenience of single-serve K-Cup pods, providing a freshly brewed cup in just minutes.
Pros
Carefully crafted by experienced Roast Masters
Medium roast with rich and lively flavors
Decaffeinated for a full-bodied taste without caffeine
Made from 100% pure coffee
Compatible with Keurig coffee makers
Recyclable in select communities
Cons:
Potential for difficulty piercing or clogging K-Cups
Some users experience coffee grounds in their cup
Mixed opinions on flavor, with some finding it bitter and acidic
15. McCafe Decaf Premium Medium Roast Decaf K Cups: Best Budget Option
When it comes to affordable coffee, McDonald's brew holds its own.
We've swung by the drive-thru for a cup a few times.
Nowadays, it's a breeze – and easy on the wallet – to whip up McDonald's medium decaf coffee right at home.
The Keurig version comes remarkably close to what you'd savor at a McDonald's joint, so you're not sacrificing flavor by brewing it yourself.
Meet McCafe Decaf Premium Medium Roast Decaf K-Cups, the decaffeinated coffee pods that house medium roast, decaffeinated ground coffee sourced from 100% Arabica beans.
You can grab them in various pack sizes, ranging from 12 to 94 counts.
This coffee is all about smoothness, balance, a rich aroma, and a clean finish.
Roasted with precision in a temperature-controlled environment, every drop delivers maximum flavor.
These K-Cup pods have an Orthodox Union Kosher certification and are compatible with all Keurig K-Cup coffee makers.
If you're dealing with health concerns like acid reflux, this coffee blend could be your ideal companion.
It offers a rich flavor without overwhelming your stomach.
So, if you're on the hunt for more coffee pods at an affordable price, our recommendation would definitely be this.
Pros
Affordable option
Close taste to McDonald's in-store coffee
Smooth, balanced, and rich flavor
Made from 100% Arabica beans
Roasted for maximum flavor extraction
Certified Orthodox Union Kosher
Suitable for those with acid reflux concerns
Cons
Lower quality compared to some other decaf K-Cups
Occasional issues with receiving fewer pods than ordered
Some pods arrived with expiration dates rubbed off (improved since)
Do Doctors Recommend Decaf Coffee?
Doctors often recommend decaf coffee as a caffeine-free alternative for individuals who are sensitive to or experience adverse reactions to caffeine.
Decaf coffee comes with a range of health benefits, including a reduced risk of conditions like type 2 diabetes, liver disease, and heart disease.
It's worth noting that decaf coffee is rich in antioxidants called polyphenols, which can help combat oxidative stress and inflammation within the body.
Additionally, decaf coffee serves as an excellent choice for those looking to limit their caffeine intake for various reasons, including pregnancy, religious considerations, or simply personal preference.
However, it's essential to understand that decaf coffee isn't entirely caffeine-free; it contains notably less caffeine compared to regular coffee.
How Are Decaf Pods Made?
Decaf pods are created using decaffeinated coffee beans.
The decaffeination process starts by removing most of the caffeine from the green coffee beans before they undergo roasting.
Multiple methods are employed for decaffeinating coffee beans, which include the direct solvent method, the water processing method, the carbon dioxide method, and the Swiss Water Process.
Following the decaffeination process, the beans are roasted and ground to produce coffee grounds.
These coffee grounds are then carefully packed into pods, which are sealed to maintain freshness.
Which Decaffeination Is The Best?
When it comes to decaffeination methods, there isn't a one-size-fits-all answer; it largely boils down to personal preferences.
However, some methods tend to stand out as better options.
The Swiss Water Process and the Carbon Dioxide Method are frequently favored because they are more natural and cause minimal flavor loss compared to other techniques.
Meanwhile, the Direct Solvent Decaffeination Process, one of the oldest methods, remains in wide use today.
Among these, the CO2 method shines as one of the best since it solely removes caffeine while preserving flavor to a significant extent.
If you have concerns about specific solvents or methods, it's a wise move to reach out to the brand or company for details about their decaffeination process.
How To Make Keurig Coffee Taste Better?
Improving the taste of your Keurig coffee is simple with a few easy tips.
Here's how to make your Keurig-brewed coffee more flavorful:
1. Keep Your Keurig Clean
Regularly clean your Keurig using white vinegar or lemon juice.
A clean machine ensures that there are no residual flavors or impurities that can affect the taste of your coffee.
2. Preheat Your Keurig
If your Keurig has been idle for a while, run some hot water through it before brewing your coffee.
This preheating step ensures that your coffee brews at the right temperature for optimal flavor extraction.
3. Experiment with Pod Doubling:
For a bolder cup of coffee, consider using two pods instead of one.
This can intensify the flavor and create a more robust brew.
4. Opt for a Bolder Roast
Choose coffee pods with a darker roast level if you prefer a richer and more intense coffee flavor.
Darker roasts typically have stronger and bolder taste profiles.
5. Spice It Up
Enhance your coffee's flavor by adding spices like cinnamon, nutmeg, or cardamom.
A pinch of these spices can elevate the taste and create a delightful, aromatic brew.
6. Choose Quality Coffee
Invest in high-quality coffee pods.
Premium coffee brands often use better-quality beans, resulting in a more satisfying cup of coffee.
7. Use the Right Water
Ensure you use clean, filtered water for brewing.
Impurities or strong-tasting tap water can negatively affect the coffee's flavor.
8. Watch Your Water-to-Coffee Ratio
Avoid over-diluting your coffee by using too much water.
Follow the recommended water-to-coffee ratio for a well-balanced and flavorful cup.
How To Prevent K Cups From Exploding?
To prevent K-cups from exploding, you can take several precautions.
Start by inspecting the K-cup's seal to ensure it's properly sealed; any issues with the seal can lead to messy explosions.
If the K-cup lid is rounded, consider gently poking it with a small pin before brewing to release some built-up pressure.
Alternatively, you can push it down in the brew basket of your Keurig to puncture the cup with the bottom brew needle.
If you consistently encounter exploding K-cups, pay attention to the lids.
If they appear domed, it means they are overfilled.
To prevent future K-cup explosions, it's crucial to identify the root cause.
Possible reasons include excess air in the cup, a weak seal, a clogged needle, or even a manufacturing issue with your Keurig machine.
Addressing these underlying factors will help minimize the risk of K-cup explosions in your brewing process.
Buyer's Guide: Key Factors to Consider When Choosing the Best Decaf K-Cups
Decaf K-Cups offer a convenient way to enjoy your favorite coffee without the jolt of caffeine.
When selecting the best decaf K-Cups to suit your taste and preferences, several essential factors come into play.
Here's a detailed buyer's guide to help you make an informed decision.
Decaffeination Method
The decaffeination method used can significantly impact the flavor and quality of your decaf coffee.
Common methods include the Swiss Water Process, Carbon Dioxide (CO2) Method, and Direct Solvent Decaffeination.
The Swiss Water Process and CO2 Method are often preferred for their ability to preserve flavor while removing caffeine and any lingering chemicals.
It's advisable to inquire about the decaffeination method used by the brand to ensure it aligns with your preferences.
Coffee Flavor Profile
Decaf coffee comes in various flavor profiles, just like regular coffee.
Consider whether you prefer a light, medium, or dark roast.
Light roasts tend to be brighter and more acidic, while dark roasts are richer and bolder.
Additionally, some decaf K-Cups offer unique flavor notes, such as hazelnut or caramel.
Choose a flavor profile that suits your taste buds.
Coffee Bean Type
Decaf K-Cups are typically made from Arabica or Robusta coffee beans.
Arabica beans are known for their smooth, mild flavor, while Robusta beans offer a more robust, slightly bitter taste.
Most people prefer Arabica for its quality and balanced flavor.
Check the product description to ensure it's made from your preferred coffee bean type.
Package Size
Decaf K-Cups come in various package sizes, ranging from small packs to bulk quantities.
Consider how frequently you'll be enjoying decaf coffee and whether you prefer the convenience of single-serve pods or a larger supply.
Buying in bulk may offer cost savings if you're a frequent consumer.
Brand Reputation
Reputable brands are more likely to provide high-quality decaf K-Cups.
Research the brand's reputation, read customer reviews, and check for certifications like USDA Organic or Fair Trade.
Established brands often have a consistent quality standard.
Price and Value
Decaf K-Cups vary in price, so it's essential to strike a balance between quality and affordability.
While some premium options may be pricier, they could offer superior taste.
Conversely, budget-friendly choices can still provide a satisfying cup of decaf coffee.
Consider your budget and how it aligns with your taste preferences.
Eco-Friendliness
If you're environmentally conscious, look for decaf K-Cups with eco-friendly features.
Some brands offer recyclable or compostable pods, contributing to sustainability efforts.
Eco-friendly options are increasingly available to help minimize environmental impact.
Compatibility
Ensure that the decaf K-Cups you choose are compatible with your Keurig coffee maker model.
While most K-Cups work with Keurig machines, it's essential to confirm compatibility to prevent any brewing issues.
Personal Preferences
Ultimately, your personal preferences play a significant role in choosing the best decaf K-Cups.
Taste is subjective, so trust your palate and experiment with different brands and flavors until you find your perfect cup of decaf coffee.
The Verdict: Which Decaf K Cup Coffee Is Best?
In our quest for the best decaf K-cup coffee, Maud's Dark Roast Decaf Coffee Tall and Handsome K Cups stood out as the top choice.
With its full-bodied flavor, rich aroma, and eco-friendly packaging, it offers a delightful decaf coffee experience that's hard to beat.
As the Runner-Up, Illy Classico Decaffeinated Coffee K-Cups impressed us with its balanced taste, quality beans, and commitment to sustainability.
While it may be a tad pricey, its exceptional flavor and ethical practices make it a close second.
FAQ's
Are decaf K cups as flavorful as regular coffee?
Yes, decaf K cups can be just as flavorful as regular coffee.
Quality decaf options, like the ones in this review, are carefully crafted to retain the rich taste and aroma of coffee beans while eliminating caffeine.
Can decaf K cups be used in all Keurig machines?
Most decaf K cups are compatible with all Keurig machines.
However, it's always a good idea to check the compatibility with your specific model to ensure a perfect fit.
Is decaf coffee completely caffeine-free?
Decaf coffee is not completely caffeine-free.
It typically contains a minimal amount of caffeine, usually less than 3% of the caffeine found in regular coffee.
The exact caffeine content can vary depending on the brand and decaffeination method used.
Are K Cups More Expensive Than Regular Coffee?
K-cups generally tend to be more expensive compared to regular coffee.
The price of K-cups typically falls within the range of 40 cents to $1.24 per pod, with an average cost of around 60 cents per pod.
Conversely, regular coffee can be brewed at a cost ranging from 17 cents to 47 cents per cup.
One analysis indicates that the per-cup cost of K-cups is approximately 66 cents, while regular ground coffee averages around 28 cents per cup.
If you consume three cups of coffee daily throughout the year, this translates to an expenditure of roughly $723 for K-cups versus $307 for regular coffee brewing methods.
However, it's important to note that the overall cost of coffee can vary depending on factors like your coffee consumption habits, the type of coffee you prefer, and your ability to find deals on coffee makers and coffee products.
Therefore, your individual coffee-drinking preferences should guide your decision on which option is more cost-effective for you.
Are there decaf green tea k-pods?
Yes, there are decaf green tea K-cups available.
Some of the brands that offer decaf green tea K-cups include Twinings and Celestial Seasonings.
Can I use decaf K cups for iced coffee?
Yes, you can use decaf K cups for iced coffee.
Simply brew a cup of decaf coffee with your Keurig machine and then allow it to cool.
Once cooled, pour it over ice and add any desired sweeteners or milk for a refreshing iced coffee.