In this curated list, we dive into the world of exquisite flavors and vibrant aromas as we unveil our top 12 picks for the best light roast coffee brands.
If you're a seasoned coffee connoisseur or just starting your coffee journey, this curated list will guide you to the perfect cup of subtly nuanced, bright, and invigorating coffee.
Join us on a caffeinated adventure through the world of light roast coffee beans, where each brand is a testament to the art of roasting and the pursuit of extraordinary taste.
12 Best Light Roast Coffee Brands: At A Glance
1. Lifeboost Optimist Light Roast Coffee: Best Overall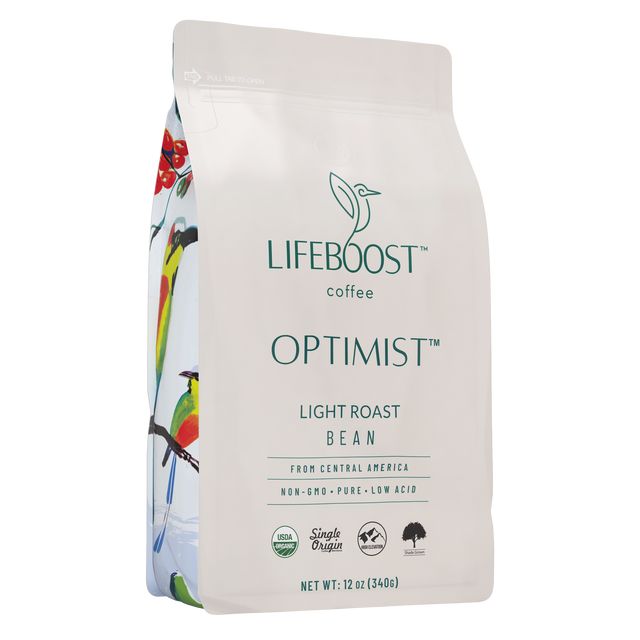 Lifeboost Optimist Light Roast Coffee is a special brew.
It's a single-origin coffee that's easy on the stomach, free from GMOs, and roasted in small batches for maximum flavor.
This coffee hails from the scenic mountains of Nicaragua, where sustainable farming practices thrive.
The beans are hand-picked with utmost care, ensuring top-notch quality.
The light roast assortment offers a vibrant flavor profile with a touch of acidity, highlighting the inherent characteristics of their premium Lifeboost coffee beans.
What makes it stand out is the meticulous 26-hour fermentation process, which gently removes the outer layer without harming the precious bean inside.
Now, let's talk about the elephant in the room – the price.
Lifeboost is a premium coffee brand, and yes, it comes with a price tag to match.
But if your budget allows, it's worth every penny.
In our book, it's the ultimate light roast for your morning brew.
Pros:
Exceptional flavor profile
Single-origin beans
Sustainable farming
Meticulous hand-picking
Gentle 26-hour fermentation
Cons:
2. Kicking Horse Coffee Hola Light Roast Ground Coffee: Best Ground Coffee
Kicking Horse Coffee's Hola Light Roast Ground Coffee is a delightful brew roasted in the heart of the Rocky Mountains.
If you're in the mood for something distinct, this one's a must-try.
It's an organic, fairtrade, and kosher coffee, blending beans from Central and South America.
The coffee is essentially a burst of red currant tang paired with a smooth honey-like body.
And don't forget the inviting notes of brown sugar, nougat, and cocoa powder in every sip.
With its fruity hints and an energy-boosting caffeine kick, it's the perfect way to kickstart a bustling morning.
This coffee is coarsely ground, ideal for drip and pour-over brewing, and it even shines as a cold brew.
Now, here's the kicker: it only comes ground, so you can't use it for espresso or Moka pot brewing.
It's a bit of a letdown, considering its unique flavor could've been a match made in coffee heaven for those methods.
Pros
Organic and fairtrade
Unique flavor profile
Fruity undertones
High caffeine content
Ideal for drip and pour-over
Cons
Only available as ground coffee
Not suitable for espresso or Moka pot
3. Café Britt Costa Rican Decaffeinated Coffee: Best Decaf Option
Indulge in Café Britt Costa Rican Decaffeinated Coffee, a top-notch brew that takes a gentle, water-based route to decaffeination.
It's a go-to for folks with sensitive stomachs.
Sourced and roasted locally, it stays true to the vibrant flavors of its Costa Rican roots.
You can expect a mild, slightly tangy taste with an inviting aroma laced with hints of clove and honey.
This coffee is your ticket to savoring the essence of coffee without the buzz.
But here's the downside: some users have noted concerns about the packaging's durability.
The bag seems to be a tad fragile, so handle it with care.
Pros
Natural water-based decaffeination
Gentle on sensitive stomachs
Authentic Costa Rican flavors
Mild, slightly tangy taste
Inviting aroma with hints of clove and honey
Cons
Packaging may tear easily
Grinder required
4. New England Coffee Donut Shop Blend Light Roast K-Cup Pods: Best For Keurig
If you're a proud owner of a Keurig machine, you might have noticed the light roast options are a bit limited.
But fear not, there's a shining star in the mix – the Donut Shop by New England Coffee.
These K-Cup Pods are tailor-made for single-cup brewers.
They're brewed from 100% Arabica beans and, bonus, they're gluten-free.
Picture a smooth, mellow coffee with a light roast that's gentle on the stomach, making it a win for just about anyone.
Plus, it's a match made in coffee heaven with creamer or milk, whether you prefer dairy or plant-based options.
When it comes to freshness, no worries here.
These pods are crafted in small batches, so the flavor stays consistently delicious.
On the eco-friendly front, rest easy knowing your coffee was made sustainably, with a focus on worker welfare and biodiversity.
They're also committed to making their capsules 100% recyclable.
However, recycling might not be the most convenient, so some folks opt for the trash bin.
Pros
Designed for Keurig machines
Gluten-free
Smooth, mild taste
Low acidity, gentle on the stomach
Complements creamer or milk
100% recyclable capsules
Cons
The recycling process is not very convenient
5. Volcanica Colombian Geisha Coffee: Best Single-Origin Coffee
Colombian Geisha Coffee is a rare gem cultivated in Colombia's Huila region, with roots tracing back to wild Ethiopian beans.
This coffee is the epitome of exceptional flavor, boasting a perfect blend of acidity and sweetness, and boasting long, elegant beans.
The name "Geisha" hails from the Ethiopian town of Gesha, where the coffee plant has its origins.
Now, here's an interesting tidbit: Geisha Coffee packs about 30% less caffeine than your average joe.
Its yield is modest but remarkable, which explains its scarcity in commercial production.
Now, let's talk about taste.
A sip of Geisha reveals a delightful sweetness with unique hints of jasmine, black tea, and apple jack.
That exquisite balance of acidity and sweetness is what makes it a coffee superstar.
Enjoy it solo, but it's not the best pick for creamy, milk-infused concoctions.
For the first-timers, dip your toes with a 16-ounce batch.
If it tickles your taste buds, you can go big with packages up to 5 pounds.
You also have the choice between beans or pre-ground coffee.
If you opt for the latter, you can tailor it to your brewing method, whether it's espresso, drip, or French press. Your coffee, your way!
Pros
Rare and exceptional flavor
Unique blend of acidity and sweetness
Long, slender beans
Lower caffeine content
Available in various grind sizes
Flexible packaging sizes
Cons
Limited availability
Not ideal for milk-based coffee drinks
6. Starbucks Veranda Blend Blonde Roast Coffee
Starbucks, a household name mostly known for its frappuccinos, also offers a range of delicious coffees.
Among their staples are three classics: Pike Place Roast, the rich Verona dark roast, and the light and bright Blonde Roast, also known as Veranda.
Speaking of Veranda Blend Blonde Roast Coffee, it's a gentle and delightful brew with hints of toasted malt and milk chocolate.
Think of it as a mellow, flavorful coffee with a velvety touch. The beans for this blend are sourced from Latin America.
Starbucks introduced Veranda Blend and other "blonde" roast coffees in 2012, expanding their Roast Spectrum to cover three profiles: blonde, medium, and dark.
Surprisingly, despite being a departure from their traditional dark roasts, Veranda Blend has won over many coffee lovers and become a Starbucks favorite.
Now, let's address the drawbacks: Some folks find its flavor a tad subtle, possibly even flat.
Additionally, it might pack a bit more acidity compared to other roasts.
So, while it's beloved by many, it might not be everyone's cup of coffee.
Pros
Variety of coffee options
Classic staples available
Delightful light Blonde Roast
Mellow, flavorful taste
Expanded Roast Spectrum
Popular choice
Cons
Subtle flavor for some
Slightly more acidic
7. Cameron's Coffee Breakfast Blend
Cameron's Coffee is all about one thing: the beans.
They're not into coffee shops or fancy machines; their focus is on making those beans shine, delivering a smooth and never bitter morning brew.
Their Breakfast Blend is a prime example.
It's roasted in small batches, and meticulously cooled to avoid over-roasting.
What you get is a light roast coffee, a fusion of Central and South American beans, with a mild yet wonderfully rich flavor.
The coffee boasts a lively, fruity taste that won't overwhelm your senses.
Here's the bean magic: it's 100% Arabica and 100% Certified Specialty Grade, which means it's part of the world's top 10% of beans.
And you know what's music to coffee lovers' ears? The rave reviews for its smooth, bitterness-free character.
Cameron's Coffee Breakfast Blend is a surefire way to start your day right.
Pros
Focus on bean quality
Small-batch roasting
Smooth, never bitter taste
Lively, fruity flavor
100% Arabica beans
Certified Specialty Grade
Cons
May be too mild for some palates
Some complaints of it tasting like dishwater
8. Café Don Pablo Light Roast Subtle Earth Organic Coffee
If you're all about the natural vibes, meet Café Don Pablo. Their whole-bean coffee is as organic as it gets.
Café Don Pablo Light Roast Subtle Earth Organic Coffee is a gentle, caramel-toned light roast.
It's smooth, bright, and oh-so-easy to sip, leaving you with a mild finish and a sweet aftertaste that'll make you smile.
These 100% Arabica beans come straight from Honduras, packing a rich, chocolatey punch with a clean ending.
Not to mention, it's low in acidity, making it friendly for sensitive stomachs.
Plus, it's non-GMO and boasts that certified organic stamp from CCOF.
Now, let's talk flavor. Imagine notes of honey, caramel, cocoa, and milk chocolate dancing in your cup.
And here's a bonus: buying in bulk means you're in for a treat, with double-sealed packaging keeping things fresh.
But there are a couple of things to keep in mind.
It's whole bean, so you'll need a grinder, and it's a tad pricier.
But trust us, the rich flavors and top-notch freshness are worth it.
Pros
Certified organic
Smooth and caramely light roast
Rich chocolatey flavor
Low acidity, gentle on the stomach
Freshness preserved with double-sealed packaging
Cons
9. Fresh Roasted Coffee Organic White Knight Light Roast Coffee
For those coffee lovers who make ethical choices a priority, Fresh Roasted Coffee Organic White Knight Light Roast is a standout pick.
This blend is crafted from single-origin coffee beans that carry both Fair Trade and organic certifications.
It's a light roast that'll introduce your taste buds to the delightful notes of wild bing cherries and cocoa, finishing off with a clean, crisp taste.
The balance here is spot on, delivering a bright and bold flavor.
Now, here's the catch (or two): Like other whole bean options, you'll need a grinder to make it work.
Plus, it's a bit pricier compared to some alternatives, but that's mainly because it supports a fair trade approach to coffee.
But for those who prioritize ethics in their coffee choices, it's a worthwhile investment.
Pros
Fair Trade and organic certified
Unique blend with wild cherry and cocoa notes
Balanced and bold flavor
Available in two-pound quantity
Cons
Requires a coffee grinder
Slightly higher price due to fair trade sourcing
10. Coffee Over Cardio Birthday Cake Flavored Coffee
Looking to add a little extra flair to your morning routine? Coffee Over Cardio's Birthday Cake Flavored Coffee might just be your cup of choice.
This light roast blend is made from 100% Arabica beans sourced from Costa Rica, delivering a lively flavor with a hint of sweetness.
While Coffee Over Cardio calls it "birthday cake," think more along the lines of smooth, sweet vanilla.
It's got that cake-like aroma and flavor, making it a real treat for those with a sweet tooth.
What's more, it ticks all the right boxes: gluten-free, non-GMO, and a big fat zero in the calorie, carb, sugar, and fat departments.
The great news is, coffee enthusiasts have given it the thumbs up, praising its taste and aroma.
Plus, it won't break the bank, so it's a delightful way to jazz up your occasional morning coffee routine.
One thing to note, though: the cake flavor is subtle, and some folks might not even notice it.
But for those with a refined palate, it's definitely worth a try.
Pros
Lively flavor with subtle sweetness
Smooth, sweet vanilla-like taste
Gluten-free and non-GMO
Zero calories, carbs, sugar, and fat
Positive customer reviews
Affordable option for a unique coffee treat
Cons
Cake flavor may be too subtle for some
Some may find the Birthday Cake flavor to be too sweet for their taste
11. Fresh Roasted Coffee Brazil Minas Gerais Light Roast Coffee
Fresh Roasted Coffee Brazil Minas Gerais Light Roast is a single-origin delight that hails from two regions in Minas Gerais: Sul de Minas and Cerrado de Minas.
Minas Gerais is like the coffee heart of Brazil, responsible for almost half of the country's coffee production.
Its landscape, marked by lush mountains and valleys, is the secret behind the diverse flavors of Brazilian coffee.
With dependable rainfall, warm days, and dry winters, it's the perfect spot for coffee cultivation.
This coffee is lightly roasted to highlight its delicate essence, revealing fruity and floral notes, with little to no oil on the beans.
Expect a taste symphony of orange zest and brown sugar, with a potential burst of fruity, berry goodness in the middle, followed by an impressive finish.
But here's the thing to remember: light roasts like this one can lean on the acidic side.
It's a common trait, but it might not sit well with those who have sensitive stomachs.
Pros
Single-origin coffee
Diverse flavor profile
Delicate fruity and floral notes
Ideal coffee-growing conditions
Orange zest and brown sugar hints
Potential for fruity, berry mid-palate
Cons
Somewhat acidic, may not suit sensitive stomachs
12. The Bean Coffee Company Light Roast Breakfast Blend
Since 2007, The Bean Coffee Company has been perfecting the art of fresh roasting coffee in small, micro-batches.
Their mission? To ensure each cup is a burst of flavor, never bitter or overdone.
What's more, they're proudly 100% organic and natural, and all their processing happens right here in the good ol' USA.
Their Light Roast Breakfast Blend is a delightful mix of South American Arabica beans, offering a smooth, well-rounded taste with a clean finish.
They take the hand-roasting approach in small batches, sealing in those natural flavors and that fresh-roasted goodness at its peak.
With certifications from CCOF and USDA, you can trust that this coffee is the real deal—100% Arabica beans, no less.
Pros
Micro-batch fresh roasting
100% organic and natural
Certified organic by CCOF and USDA
Smooth and clean taste
100% Arabica beans
Cons
May not have the rich, bold flavor that some coffee drinkers prefer
Some people don't like the blend
Doesn't come in a resealable bag
A Guide to Choosing the Perfect Light Roast Coffee
Let's explore some important factors that can help you choose the perfect light-roast coffee beans to start your day.
Bean Origin and Varietal
When searching for the best light roast coffee, the origin and varietal of the beans play a significant role in determining the flavor profile.
Different regions around the world produce coffee beans with distinct characteristics.
For instance, Ethiopian beans are known for their bright and floral notes, while beans from Latin America often feature a well-balanced acidity and nutty undertones.
Consider the origin and varietal preferences based on your taste preference.
Single-origin coffees are also worth exploring if you want to experience the unique flavors of a specific region.
Roasting Level
Light roast coffee is known for its gentle roasting process, which preserves the intrinsic flavors of the beans.
However, within the category of light roasts, you may encounter various degrees of roasting.
Some light roasts are extremely light, almost bordering on "white coffee," while others may be slightly darker but still within the light roast category.
Be sure to check the roast level specified by the manufacturer, as this can affect the taste, acidity, and body of the coffee.
Flavor Profile
Light roast coffees often boast vibrant and complex flavor profiles.
Common tasting notes include floral, fruity, citrusy, and tea-like qualities.
When choosing a light roast coffee, consider the flavor notes that appeal to your palate.
If you prefer bright and acidic coffees, look for those with citrus or berry notes.
On the other hand, if you enjoy a milder and smoother taste, opt for light roasts with hints of caramel, nuts, or chocolate.
Bean Quality
Quality matters when it comes to coffee beans.
Look for beans that are labeled as 100% Arabica, as they generally offer a smoother and more nuanced flavor compared to Robusta beans.
Additionally, consider beans that are sourced from reputable farms or regions known for their coffee production.
Organic and Fair Trade certifications can also indicate a commitment to sustainable and ethical practices in coffee farming.
Freshness
Freshness is crucial for light roast coffee, as it retains its delicate flavors best when consumed shortly after roasting.
Check the roast date on the packaging, and aim to purchase coffee that has been roasted within the past few weeks.
Whole bean coffee stays fresher longer than pre-ground coffee, so if possible, opt for whole beans and grind them just before brewing.
Brewing Method
Consider the brewing method you plan to use.
Light roast coffee is versatile and can be brewed using various methods, such as pour-over, drip, French press, and AeroPress.
Some light roast coffees may be specifically labeled for certain brewing methods, so choose one that aligns with your preferred way of making coffee.
Price and Budget
Lastly, take your budget into account.
While some premium light roast coffees can be on the pricier side, there are also affordable options available that offer excellent quality.
Balance your desire for exceptional coffee with your budget constraints to find the best light roast coffee that suits both your taste and your wallet.
Is Light Roast Coffee The Best?
The "best" coffee roast is subjective and hinges on individual taste preferences.
Light roast coffee offers a nuanced, complex flavor profile with fruity and floral notes, while dark roast coffee leans towards a bolder, smokier taste.
Light roast coffee boasts more antioxidants and chlorogenic acid, potentially aiding in protecting against cell damage and inflammation.
It also contains slightly more caffeine per bean, though the variance is minimal and relies on measurement methods.
Ultimately, the best coffee roast is the one that brings you the most enjoyment.
Why Is Light Roast Coffee Less Popular?
Light roast coffee hasn't gained as much popularity compared to its medium and dark roast counterparts for a few reasons.
First, it boasts a complex and acidic flavor profile that can be challenging for some coffee drinkers to fully appreciate.
Many prefer the balanced and more familiar taste of medium roasts.
Another factor is the greater variability in flavor and aroma that comes with light roasts.
This variability can make it challenging for brands to offer a consistent product, which may deter some consumers who are seeking a dependable taste.
However, it's worth noting that light roasts are gaining traction, particularly in the specialty coffee industry.
They're celebrated for their ability to accentuate a coffee's unique origin characteristics more than any other roast style.
Lastly, while light roast beans are denser and contain slightly more caffeine per bean, the difference in caffeine content is minimal.
So, while light roast coffee may be less popular among mainstream coffee drinkers, it's finding a devoted following among those who appreciate its nuanced flavors and origin-focused approach.
How To Make Light Roast Coffee Effectively
When it comes to making light roast coffee just right, you've got to tailor your brewing technique to match its unique qualities.
Light roasts have their own set of challenges, but with a few key tips, you can brew them effectively:
Adjust Your Grind
Start by using a coarser coffee grind.
This helps prevent over-extraction and keeps the flavors bright and lively.
Gentle Agitation
Be mindful not to over-stir or agitate the coffee too much.
Excessive stirring can introduce bitter notes that overshadow the delicate flavors.
Temperature Matters
Experiment with water temperature, aiming for around 90-93°C (194-200°F).
Finding that sweet spot can make a big difference.
Grind Size
Fine-tune your grind size based on the roast level.
Lighter roasts may benefit from a slightly finer grind but don't stray too far from the ideal grind size for your chosen brewing method.
Patience is Key
Light roast coffee needs time to shine.
Allow it to rest for at least five days after roasting, and sometimes even longer—7-10 days or even up to 14 days for some varieties.
Avoid brewing it right after roasting.
Choose Your Brew Method Wisely
Opt for slower brewing methods like pour-over to accentuate the intricate flavor notes that light roasts are known for.
Important To Note
Keep in mind that light roast coffee is characterized by its bright, acidic, floral, fruity, and sometimes herbal taste.
It also tends to have a lighter body, as the beans haven't been roasted long enough to develop caramelized sugars or oils.
The Verdict: Which Light Roast Coffee Is Best?
In our quest for the best light roast coffee, we've explored a world of flavors and brews. Our top picks cater to various tastes and preferences.
Lifeboost Optimist Light Roast wins the crown for the Best Overall option.
Its single-origin, low-acid, and non-GMO beans are roasted in small batches to bring out the richest flavor, making it a gourmet choice for those willing to indulge.
For those who prefer the convenience of ground coffee, Kicking Horse Coffee Hola Light Roast Ground Coffee takes the lead as the Best Ground Coffee option.
Its blend of Central and South American beans delivers a delightful blend of red currant acidity and creamy honey body, perfect for a quick and flavorful morning brew.
And for those seeking a decaffeinated delight, Café Britt Costa Rican Decaffeinated Coffee is our pick for the Best Decaf Option.
It's not only high-quality and decaffeinated using a natural, water-based process, but it also offers a mild, slightly acidic flavor with hints of clove and honey.